Kadee Thompson, M.D.
Board-Certified Urologist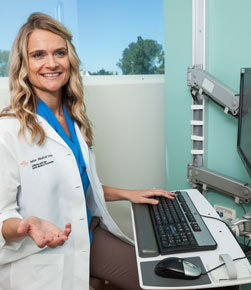 Dr. Kadee Thompson, the Director of Restorative-Urology, is a leading expert in Men's Health Care and urinary dysfunction in the Sacramento Valley and surrounding areas. She is a board-certified Urologist specializing in sexual and urinary health. As a champion of both longevity and wellness, Dr. Thompson serves as founder and director of the regional Prostate Cancer Survivorship Program. She is a regional expert in the treatment of erectile dysfunction, Peyronie's disease, and complex urinary issues for men and women. Deeply committed to her mission to provide wholeness to men and women suffering from sexual and urinary loss, she strives to provide hope through compassion and innovation.
Dr. Thompson trained in San Antonio, Texas with nationally-recognized specialists in men's health and bladder dysfunction. Following her training, she served as chief of Urology at Travis Air Force Base in Fairfield, CA. Dr. Thompson was recruited to the Sacramento area to enhance care for patients with sexual and urinary conditions. Dr. Thompson has received national recognition for her cancer survivorship programs and expertise in sexual recovery.
While most patients are referred to Restorative-Urology by their local Urologists, we also accept and welcome new patients without a referral. If you would like specific information about the care we provide to our patients at Restorative-Urology, please see our educational information in the conditions section. Our radio program, "Men's Health with Dr. Kadee" provides ongoing education about causes, symptoms, diagnosis, and treatment options for men's health conditions. To learn more about Dr. Thompson's approach to patient care, feel free to stop by What to Expect.